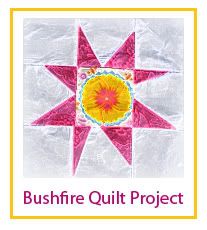 With all that's going on in Australia, another military spouse has started an effort to collect quilt blocks for those affected in the fires. You probably know her, Tia at CampFollowerBags. In fact, her work is amazing and I'd guess her work has inspired many a Military Uniform Recycler- myself included. I know there are a few ladies in Australia in the 2009 Spring Quilt Block Swap and I do hope that you are all safe and well. I'm going to do my part to donate a block or two & hopefully some binding strips to the cause. Thanks for organizing the blog-quilt effort! Click on the image to find out more.
Edited to add: You can see my blocks and the many many many others over in the
flickr group
created for this project.
~jen~